Break the cost barrier
Our "special smart phone" with build in optics will give better result at a fraction of the cost of a traditional colposcope.

Break the Qualified resource barrier
Capable of capturing the patient clinical record including the images, assess the risk through swede score and send referral for further evalution.

Break the usage barrier
Patient data management, image and video capture, annotations, clinical decision - tracking with swede score.
Gyneye features
Gyneye digital colposcope offers built-in optics that deliver top-notch results, and the best part is,
it's super affordable! It's specially designed to work amazingly even in places with limited resources.
Unmatched Camera Performance
Supported by optical image stabilization (Resolution is 108MP f/1.8, Wide Angle), 48 MP f/3.5 Telephoto camera.
Easy Installation
Gyneye comes pre-installed with Gyneye app; the device is easily mounted on a tripod for best results.
Virtual Consultations are a snap
You can now have a full-fledged telecolposcopy service right at your fingertips. It lets you easily connect with remote clinicians and experts for consultations.
Extended Battery Life
It's got a massive 5000 mAh capacity, giving you a solid 10 hours of non-stop usage. And here's the best part: it's built tough to handle anything, perfect for those low resource settings.
User-Friendly Multilingual Software.
Gyneye is equipped with a super user-friendly software application that supports multi-languages. Say goodbye to language barriers, because Gyneye makes communication simple for everyone.
Easy to carry, Easier to Diagnose
It's slim and lightweight, giving the field team the power to deliver quick and credible cervical diagnoses. With Gyneye, you can count on accurate results without any hassle.


Gyneye Workflow
With Gyneye, your clinical workflow gets a major upgrade! It simplifies everything by streamlining how you conduct, record, and review patient cases. This smart device takes your diagnostic ability to a whole new level, making it stronger than ever before.
Level up your patient's cervical health monitoring with smart technology
Gyneye is here to make your colposcopic examinations a breeze! It offers a straightforward, efficient, and adaptable way to conduct examinations and assess the risk of cervical cancer. It's just as good as a traditional colposcope, but way easier to use and integrate into your practice. The workflow is designed to capture patient info, get consent, record patient history, perform the examination, and document all your findings. It's everything you need in one handy device.
Learn More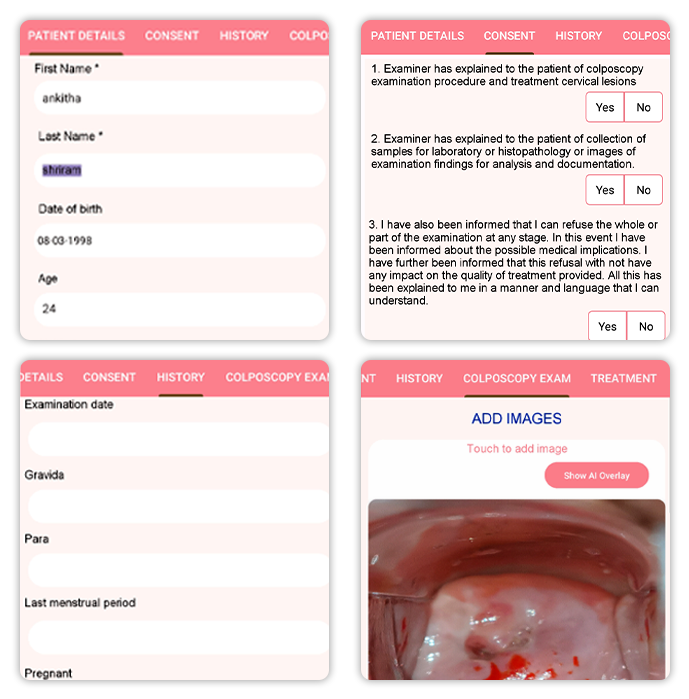 Gyneye's integration - a single window approach
Gyneye seamlessly integrates with telemedicine, making virtual consultations with cervical cancer specialists effortless, no matter where they are. This integration empowers the field team to quickly deliver credible results, all through a single-window approach. With Gyneye, you can connect with specialists and provide top-notch care without anything to worry about. Gyneye makes your practice easier.
Learn More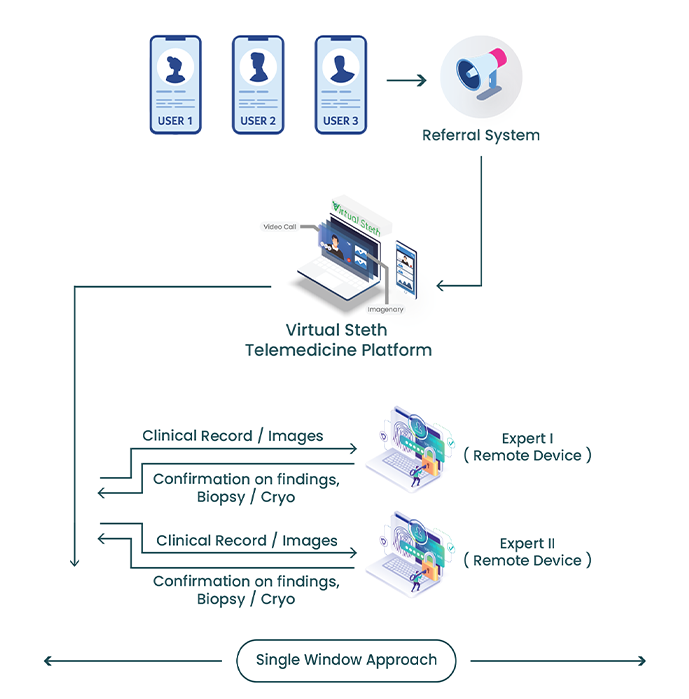 Blogs
Read our latest blog posts on cervical related diseases
and treatment breakthroughs